"The finest hand-tooled belts in the West"
Real customers giving their honest opinions.
Dear Bill,
My belt arrived today and my goodness, it has surpassed any and all expectation! It is exactly what I had envisioned, only miles better- the workmanship in the design and tooling is extraordinary and so delicate. The sizing is also spot on, down to a whisker. I really could not be more pleased, it is a truly beautiful piece of work!

Thank you very, very much!
My best to you, Alex
Dear Bill and DeAnn,

First off thank you, my boyfriend loved the belt and said it was the best birthday gift that he got! I let him open the package from the mail so I didn't even see it before him and I was stunned when he took it out of the brown fabric bag. I was very impressed with the precision and clean lines for the arrowhead basket weave and the brand on the tip was the selling point for the both of us. I will definitely be back for more orders. Once again thank you so much!
Love, a very happy customer, Lizz - Idaho
Hi,
I recently returned home to Texas briefly and picked up my belt while I was there. I just wanted to let you know that the workmanship is outstanding and the belt is nicer than I had imagined it would be. Real quality craftsmanship is rarely encountered in this day and age, but my belt is truly exceptional. I could not be more pleased with what amounts to wearable art.
Thank you, Stu L.
The belt arrived and it is just perfect!
The tapering you did fits the buckle to a T, the waist size is spot on, and the entire construction of the belt -- the tooling, stitching, etc, could not be better. I am beyond thrilled and will certainly be buying
additional belts from you folks in the future.
Attached is a picture of the final product.
Thanks again.
Jared T.
Dear Lone Tree Leather Works:
Thank you!!!!! I just got home from Texas - Ran down to the post office to see it. It is beyond my expectations. Your craftsmanship is just beautiful. Thank you so much for helping me with this belt for this special buckle.
Robert K. - Ohio
I received my order today and it is one of the best belts I've ever wore. It fulfilled all my expectations and I will order another for family in the future. I've been trying to get my brother to order one as well. I hope he does he will be very happy with the belt.
Thank you
James J
I've been wearing my new belt for close to three months now, and I just wanted to let you know how pleased I am with it. It's very stiff and resistant to rolling, which makes it perfect for use as a gun belt. You folks really ought to consider advertising your lined belts as gun belts, as they'll serve that purpose admirably.
Tracy T. - Texas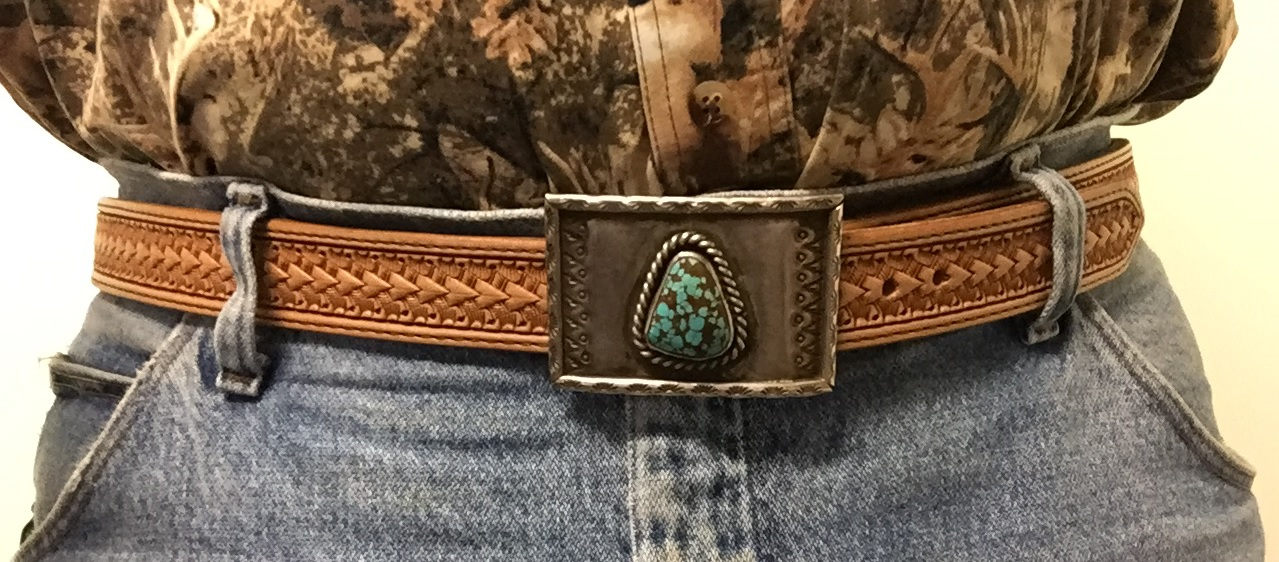 The purpose of this note is to tell you how thrilled I was when I opened my belt order recently - hell yea they were expensive, but there truly is no substitute for good ol' fashioned craftsmanship and pride in workmanship. You have my word, I will be ordering again in the future and will spread the word to anyone I know that would appreciate your product - they aren't for everyone but damn I love em!

I haven't been as impressed in a long time.
Best,
Kraig K, MT
The belt is so well done, never have had one that would begin to compare to it. Like a new haircut, makes you look good and feel better!

Thanks,
Don C.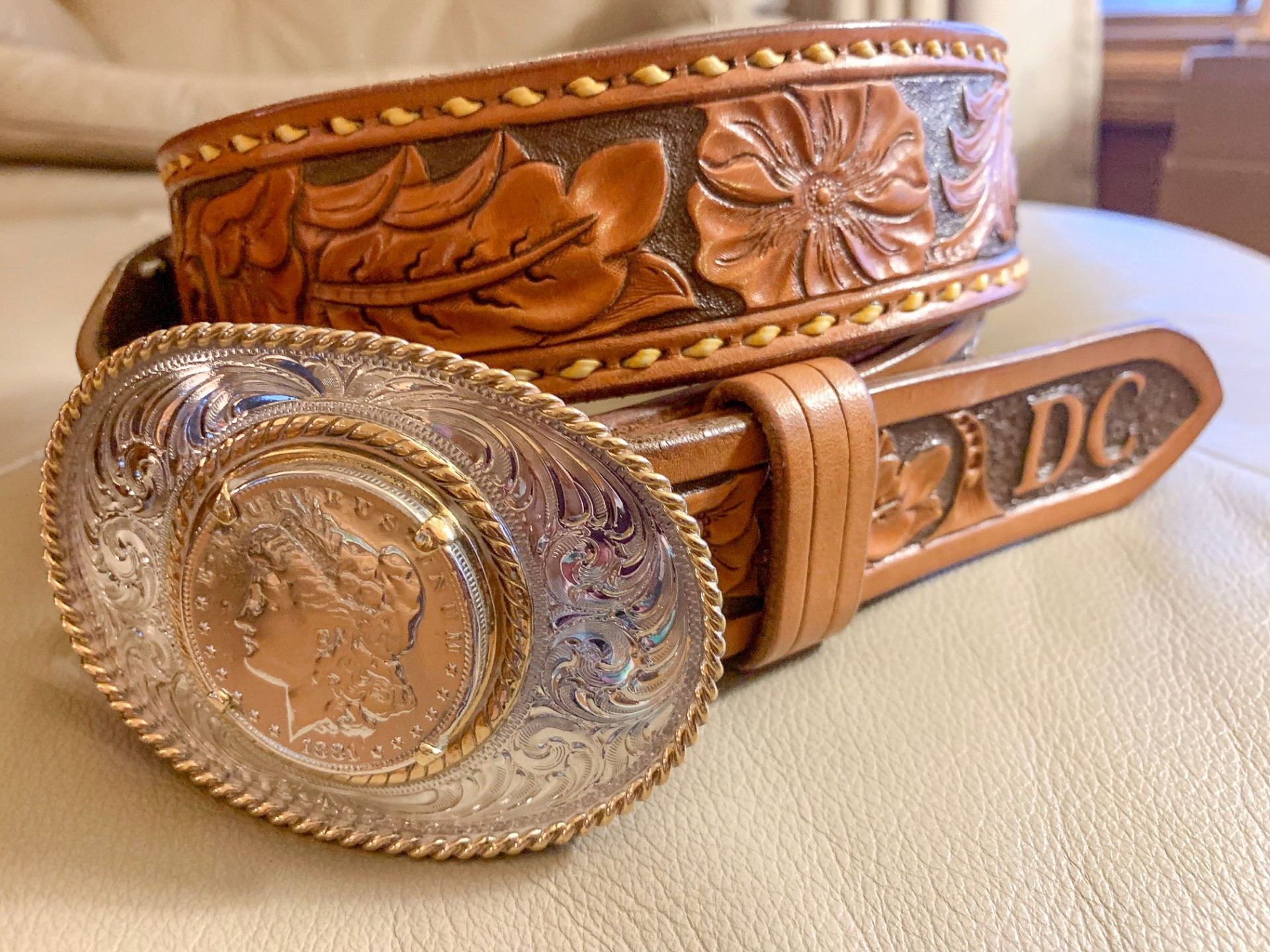 "First I must say the two custom belts you have provided me are amazing. I have never had total satisfaction with an item of clothing...rugged, functional and handsome. I hope like me. I have three of your belts. I'm going to make the difficult decision on my next to add to my growing collection of your terrific product. Thank you very much."
Jim C - Massachusetts
"I received my Red Rock Special belt this morning and it is absolutely stunning!! It is everything I would have hoped for and more! I will wear this work of art with pride and I will prepare myself for the many questions I will be asked about it. I want to thank you for your wonderful craftsmanship and your outstanding customer service. I will be ordering another belt in the very near future. You are continuing such a great tradition of hand made quality- you make me so very proud to be an American.
Thank you again, you have made my day."
Bryan - Colorado
"I absolutely love my belt! It fits like it was tailored specifically for me! From the first touch I could tell that it will last me a very long time unlike my other belts that rip and tear within a couple of months!! Just wanted to say thank you!! It is obvious that y'all take a lot pride in your work and you can expect further business from me!! Thanks again and God Bless y'all!!"
Thomas C - Mississippi
"We received the belt you had made for my husband in plenty of time for his birthday. I was so excited to give it to him, that I gave it to him early! He absolutely loved it! It turned out so perfectly and he has received so many compliments. We are giving out your name to everyone here in Iowa."
Tanya W - Iowa
Dear Bill, John, Roland & family,
My belt arrived this afternoon and I must tell you, I could not be more pleased! It is draped across my lap right now and I'm admiring the art, attention to detail, craftsmanship, quality materials and the way you married it to the vintage buckle set I sent you. There is just no way the pictures on your website can capture a masterpiece like this. Fits perfect too.
Thank you so much for your advice along the way. I know you had your doubts about me and I wasn't sure if you could capture what I was envisioning in my mind. You absolutely nailed...."tooled"...it! Perfect 70th birthday present to myself.
I do have one question and one request. Will the leather darken with age or exposure to sunlight?
Would you all mind signing a business card or letterhead and send it to me? I like Rolands stamp on the back. I should have asked you all to sign it.
Happy Trails!

Rod D.